Admission Type –  FIRST YEAR ADMITTED IN 2021-22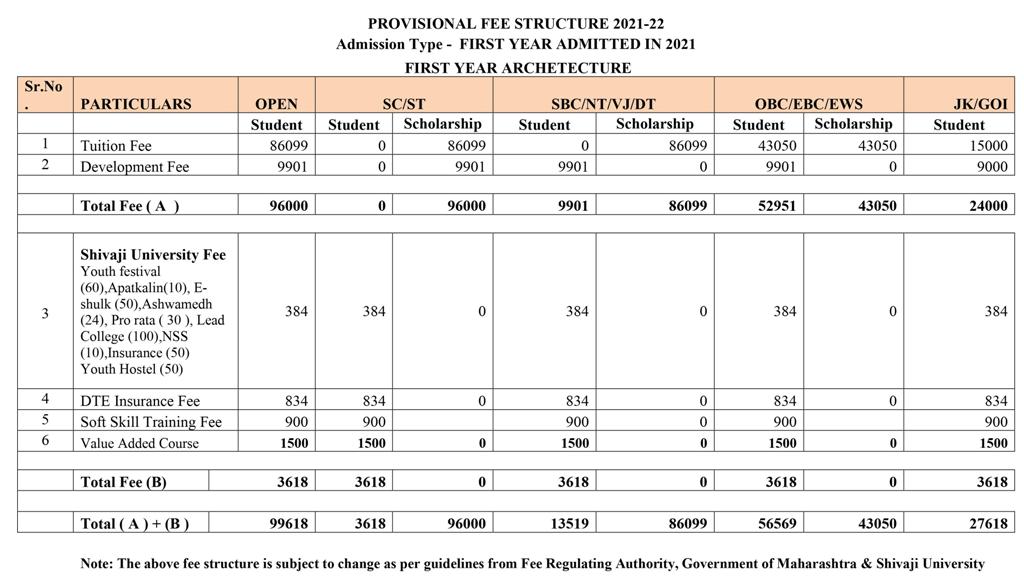 Note :
• Above Fee structure as approved by Fee Regulating Authority, Government of Maharashtra. Shivaji University fee may change as per University Guidelines
• The scholarships will be applicable if students fill the online scholarship form and the form is approved by Government of Maharashtra.
• No Cash is accepted.
Mode Of Payment:
1) DD: – DD should be drawn in favour of "D Y PATIL COLLEGE OF ENGG ANDTECHNOLOGY ARCHITRCTURE DEPT" Payable at Kolhapur.
2) For NEFT/RTGS/Online:

• Account Name: D Y PATIL COLLEGE OF ENGG AND TECHNOLOGY ARCHITRCTURE DEPT
• Account No    : 471101010280173
• Bank Name      : Union Bank of India
• Branch             : Kasaba Bawada
• IFSC code         : UBIN0547115
Account officer contact No:
1) Avishkar A. Jarag – 7276236161,
2) Shirishkumar S. Kumbhar – 9970366307,
3) Anil S. Gurav  –  9552445323